[ad_1]

NEW DELHI: Former South African cricketer
Jonty Rhodes
has a very special bond with India. He loved his experiences in the country so much, that he named his daughter India.
Hands down one of the most popular foreign cricketers in India and someone who is synonymous with fielding excellence, Jonty has over the years had many opportunities to be in India – either as a player or as a coach.
Rhodes is currently the Head coach of the Swedish cricket team (he signed with them in September 2020), but he is also keeping an eye on the current
India vs England
Test series.
TimesofIndia.com caught up with Jonty Rhodes to talk about what went wrong for India in the initial part of the Headingley Test, India's pace attack, the deep bond he shares India, what it is like to coach an associate member team and much more.
India won the second Test at Lord's vs England and then they were bowled out for a paltry 78 in Headingley. What went wrong for India?
It's too difficult to say (that) this was the one problem. James Anderson is an incredible Test bowler. His strike rate is amazing. He's still around bowling so amazingly. He knows the art of swing and the conditions were just enough that everything seemed to hit the target. The Indian batters are too good. A lot of times when there's a good delivery, you play and miss. And you'll get a little bit frustrated as a bowler. But this time around, I think James Anderson got the ball in the right areas. The Indian players failed to judge those.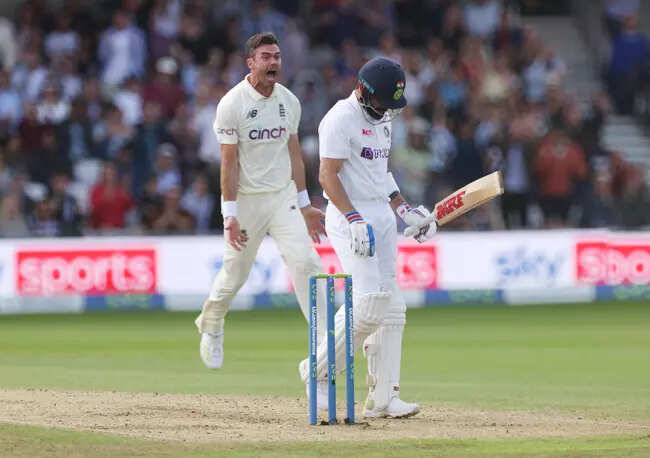 James Anderson celebrates after dismissing Virat Kohli (Reuters Photo)
It's been an incredible Test series. I think coming straight after the World Test Championship, Test cricket certainly is alive. James Anderson's contribution was huge. But think about the likes of Rohit Sharma, who is such a free-flowing batter. If he takes over 100 balls to get to 19 runs, conditions are tough. But 78 all-out was a little bit of a surprise because it's a good Indian batting lineup, but against a quality bowling attack, too. So, England have been playing good cricket.
All of us can admit that England let things slip slightly at Lord's. But that's what Test cricket is about. You can dominate, you can come back, but I don't know how India will come back into this Test being so far behind already from Day 1. There's a lot of cricket still to be played. But it's just – it's one thing. I don't think it was overconfidence. I just think it was really tough batting conditions which England utilized to the maximum.
Going by the kind of pitch on offer at Headingley, do you think R Ashwin should have been in the playing XI?
When you are 1-0 up in the series already (India have drawn one and won one Test), it's quite difficult to say that he (Ashwin) should have been in, but it's a (kind of) team selection that up until now, everybody's sort of backed Virat Kohli and the management, with regards to the team that has been selected.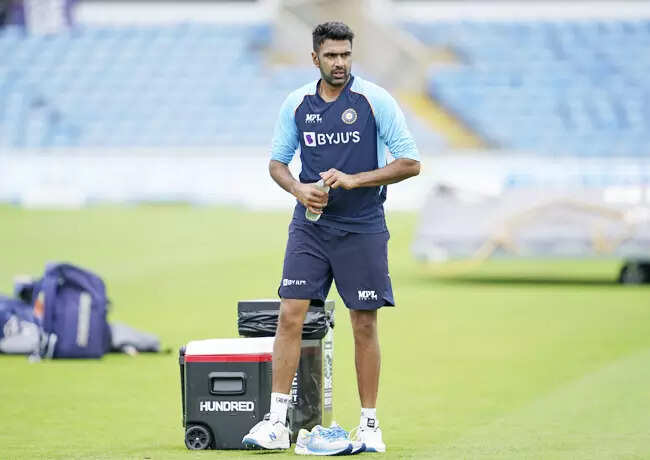 R Ashwin (AP Photo)
You can only play 11 players and it's up to the captain to decide because he leads on the field to really believe that this is the best 11 players that we have that will take 20 wickets in the game to win a Test match. That is your priority and maybe it is about an all-out seam attack. From that point of view yes Ashwin has incredible figures, and I don't think his Test career is over, that's for sure. But right now, what Kohli is facing, with his team in England, maybe he just doesn't see that as the correct balance in the starting 11. There are only 11 places, someone's got to sit out.
India have Mohammed Siraj, Jasprit Bumrah, Mohammed Shami, and Ishant Sharma in their pace armoury. They performed well in the Lord's Test but failed to stop England batsmen in Headingley in the first innings on a surface that didn't have much for the bowlers. Many people feel that this is India's all time best pace attack. Your take on that…
It's been a long time since India toured South Africa. Hardik Pandya had an incredible knock in Cape Town. The game was in the balance because the South African tracks, the pitches were green and seam friendly. And India mixed it with South Africa right from the start and the South African team got a real shock and a rude awakening.
This is a really potent Test attack for India. But it started way back in South Africa. If you are hosting India, you put on a green seamer-friendly wicket because there were one or two batters (for India). Once you got them out, the rest were in trouble and the bowlers never troubled you. However, that has changed and yes, it's very strong. We've seen Siraj. He's been dominant in limited-overs cricket, as well as in Test cricket.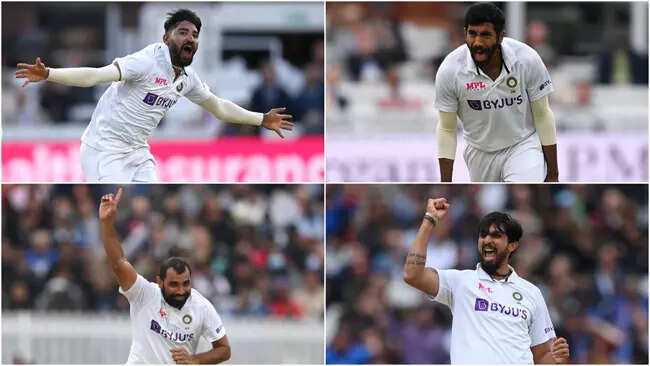 To say this is the best attack ever, I'm not going to judge that. The performances will speak for themselves and over a period of time. I just love the fact that it started two or three years back, and what you see is an intense barrage of fast bowling and you're under pressure the whole time as the opposition batter. It's something that Kohli has certainly used really well. He juggles his bowlers well. Look at Bumrah. He is an incredible bowler. We all have seen his skills as a T20 player and we may be taking him for granted, because of a slightly awkward action and he doesn't swing the ball away. (But) He's also such an effective Test bowler in all conditions. Yes, it's a well-balanced seam attack. The best ever? I don't know.
What has the experience of coaching the Sweden Cricket Team been like so far?
The interesting thing working in associate member countries is that you're literally working with club cricket players because there is no regional cricket, there is no state cricket or county. In South Africa, we have provinces. So, players come straight from the clubs to play in the national team. So, that is quite interesting, because there's no gap in between. So, it's a really big jump. We've just come back from playing Finland. We've also spent a weekend in Denmark. Basically, my team are weekend warriors, I've said to them because if they're lucky, they will practice once a week with a club. And they have to take leave (from work), all of them are working. And some of them have to take annual leave to go represent the country. And the biggest difference is the lack of facilities.
In India, there are two or three months of the year with monsoon and you can't get outside. But here in Sweden, they'll have from October till April. Because of the snow and the cold weather, they can't get outside either. There are no indoor facilities. There are sports halls, but are currently used for badminton and for handball, which is a very popular game, (also) for basketball. But generally, if people want to practice in the winter, it is very, very difficult. So, half of my national team who I've just started working with, don't have any facilities to keep on practicing once the season ends in about three weeks' time.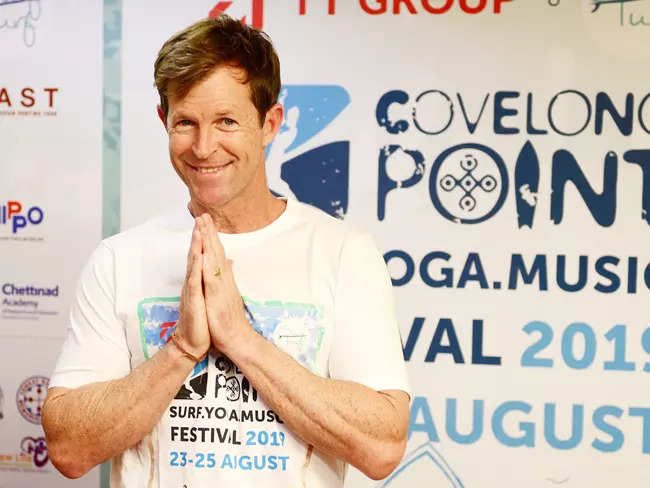 Jonty Rhodes (TOI Phot0)
So, that's probably one of the biggest frustrations – the lack of cricket infrastructure. Obviously, in a population of 11 million people, we only have 5000 registered cricket players. So, that's across the men, the ladies, and the juniors. So, it's not high priority. And understandably, the facilities are lacking. But I think that as a coach going forward, it will become my biggest frustration. So, I need to be able to sort that out and hopefully, start speaking to some of the municipalities about erecting some indoor facilities or utilizing indoor facilities that are there currently, but making a section of that indoor football field into a cricket-specific area.
So, that's a bit of a challenge. But I've really enjoyed working with some of these players who really are all amateurs and play cricket with absolute passion and just because they love the game. There's definitely no money being made here by anybody. And they all love it – the gear they work around, how they can get off on weekends, to ensure that they keep playing cricket.
You named your daughter India. What makes your bond with India such a strong one?
Cricket for me is something that I've been passionate about for a very long time. I've retired from playing three times. I've retired from coaching twice and I'm still back at it. And cricket runs deep in India. So, there's already a connection through cricket. But I've certainly, as a cricket player, I used to struggle during (playing in) India, I must confess.
We weren't great players of spin bowling in the late 90s, or the early 90s when I was playing cricket for South Africa. And it wasn't until the IPL that players became more comfortable, spending two or three months of the year (in India). So, what I have really enjoyed is that through the IPL, you spend a lot more time in the country as a coach where you don't have the pressures of a player. And I've ensured that I've got out and explored as much of India as possible. And that connected for me, growing up in apartheid-era in South Africa, where apartheid was basically keeping separate the different races (through) racial segregation, and I only had white friends.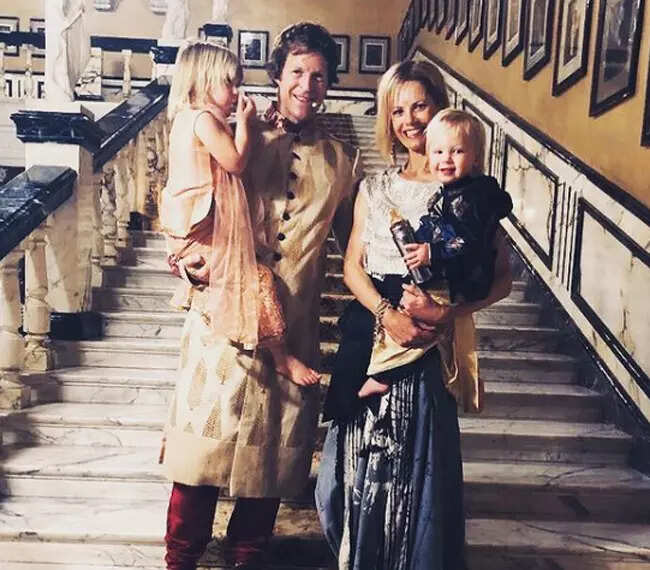 Image credit: Jonty Rhodes
I went to school with all white boys, I played cricket with for a long time, only white cricket players. So, India for me has been such an incredible opportunity to be exposed. The diversity in India is just, it is pan India, from state to state, from almost suburb to suburb, the food is slightly different, the dialect will change. And that incredible diversity is certainly something that has resonated with me and has given me an opportunity to grow as an individual and as a human, because I certainly have realized that the more you learn about other people, the more you will learn about yourself. So, in that aspect, India is a great learning place because it is so diverse.
If Jonty wasn't a cricketer, what would he be?
Good question (laughs). I (have) a Bachelor of Commerce degree. I did some business banking in South Africa as soon as I retired in 2003. And luckily, I discovered early on that I'm actually not a business banker. So, my parents are both teachers. And I think that's the one aspect of coaching that I've really enjoyed. And especially in a country like Sweden, where you've got players who don't have a great deal of skill or experience at the international level, and they are just really interested in understanding or learning from it as much as possible.
So, possibly if I hadn't gone the cricketing route, I could have ended up in a classroom because I just feel like I'm in a classroom now, but it's slightly wider and it's got no walls. And while the sun is shining, it's the best classroom to be in.


[ad_2]

Source link